Found out some info about Kago Ai. Not directly about her, but something related, which leads me to think Aibon's entertainment career may be over. I'm shuddering while typing the previous sentence...

I had the strangest dream a few days back. In that dream, I saw Kago Ai back in action, and appeared in a television show. There's some food involved, and she looks much more mature. Kinda like how she looks like at the IQ Supli show. Either my desire to witness her return is too strong, or it could be because I fell asleep while watching a Hello! Morning show and still having my headphones on and that it manifested in my dream.

However,.... I'm thinking it could be an omen, and it could mean something quite the opposite, like a goodbye dream. And guess what? My fears have came true...


There is company named Up-Front Group Co. Ltd. where under its wing are a group of companies, each to its specific purposes. E.g. Up-Front Agency (no official site) handles talent management and training, and Up-Front Works deals with music, merchandise and web-projects. The Hello!Project is the flagship project of both UFA and UFW. There's also Up-Front Hawaii deals with Hawaiians related projects. Other companies even include foods, textile and farms but they are all non-entertainment related.

But my focus is Up-Front Planning. This company deals with concerts, shows and dinner shows, event productions, public events and business management. Apparently it has recently launched its official site on 16th September 2006.

Whether this is a new company or not, it's not my main concern.
The problem is: Kago Ai is not in the talent list. See here .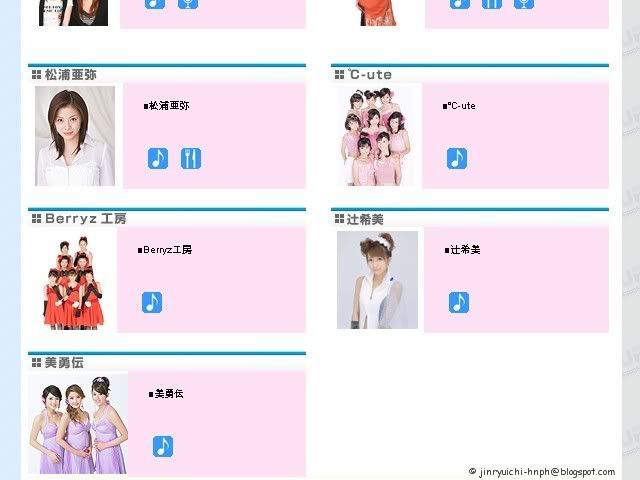 One of my saving grace and hope that even if Aibon do not get to sing if she is reactivated, at least she can be booked at variety shows or the sorts, at least until she is allowed to sing again. But now, it seems that she won't even be able to see the light of day. I am not sure how recent is that talent roster, but it could be new, since only Tsuji Nozomi is in there, and it is not listed as W.

W is still listed in the other companies such as Up-Front Works, and also Hello!Project. Chances are that W contract there are not yet over. Therefore contract with Up Front Planning should be new, and only Nono is signed up. The only assumption I can make: they are probably waiting for W's contract to end, and they can finally remove her, and only keep Nono.

So,... i guess we should prepare for the worst now. I hope by now, some of you have gained some strength to withstand the probable (maybe inevitable) sad news, if it is going to be announced in the future. If not, just keep hoping, as it is all we have left...